1st
Company to provide integrated storage services
of the largest Greek companies trust us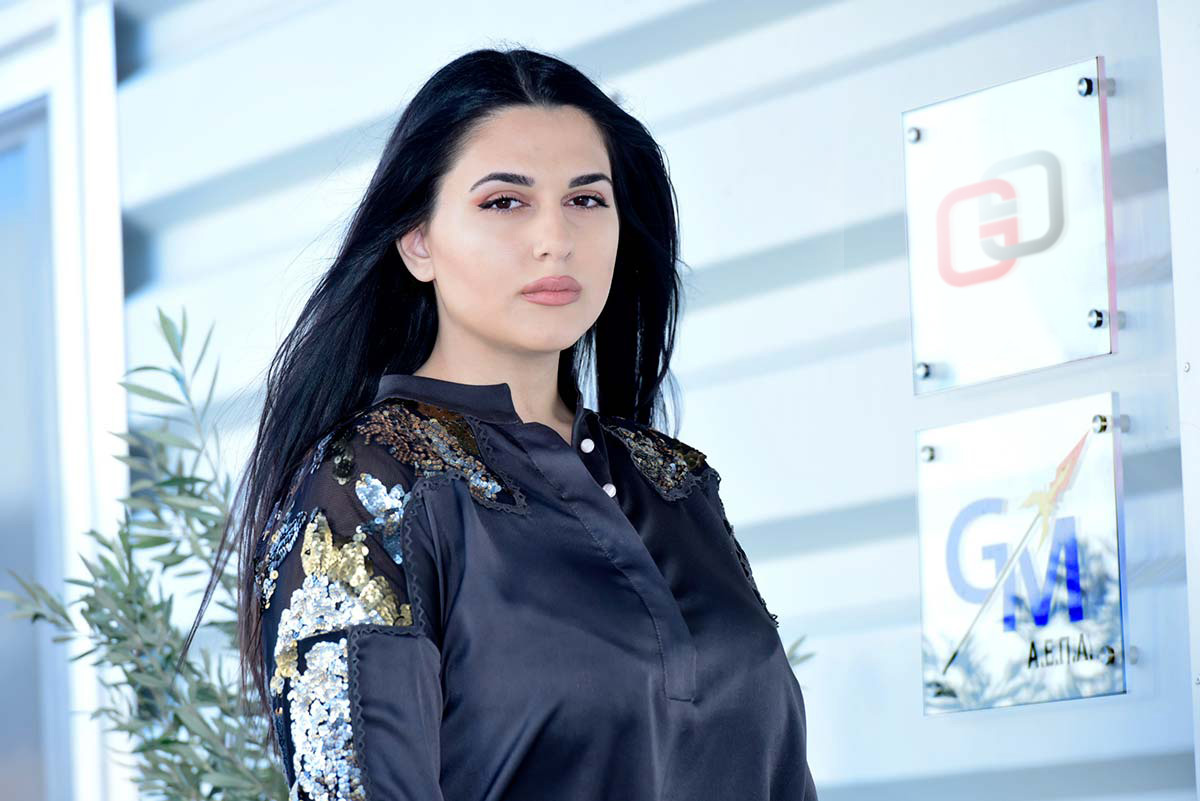 "With Christos Gialias and Katerina Terziou as my parents, I grew up in an environment with a strong business culture. My vision is to strive for something both innovative and useful in the sector of providing services for integrated warehouse work solutions. So with my family's encouragement I decided to venture into establishing "G-G S-M LLC", my own company in early 2020. I would like to believe that it is a different company. I want to train and certify what I consider an invaluable asset, namely the "Warehouse Employee". This was probably the main reason that prompted me on the one hand, to study Law specialising in Commercial and Labour Law, and on the other hand, to establish a team of qualified young executives with a common vision! Unfortunately, there are currently no universities that train warehouse employees, but there are many people with university degrees employed in the warehouse!"

COMPANY
"G-G S-M LLC" is a new Greek company in the sector of providing innovative solutions for warehouse operations. The company provides skilled and non-skilled staff in all the warehouse specialisations via an "Hourly rate project contract". It also undertakes all types of packaging– re-packaging and product labelling at its facilities, as well as at the customer's facilities. Whilst not being a 3PL [third-party logistics] company, it can provide individual targeted and emergency storage solutions to its customers, through its dry cargo warehouses in Magoula of Attica.
Its experienced team always provides solutions directly and effectively by aiming at service with the optimal cost. At a time when everything is changing, the adaptability and flexibility of "G-G S-M LLC" is its main feature, by acting as a reliable partner of its customer from the very first time and every time.
Finally, its competitive advantage is the continuous training, evaluation and fast certification of its employees – regardless of their position.
"G-G S-M LLC" was established in early 2020 by Ms Evelina Terziou – Gialia, the daughter of the entrepreneur Mr Christos Gialias, who has had a continuous presence in diverse operations in and out of Greece for over 25 years. Following the principles and visions of her family, Ms Terziou – Gialia wanted from the outset to chart an independent and pioneering course in the sector, by simultaneously utilising the knowledge of the experienced executives at her side. She intends to make "G-G S-M LLC" the 1st choice for every business – regardless of the industry – with fresh and integrated ideas.
Our vision at "G-G S-M LLC" is to design innovative services by providing human warehouse resources in every sector of our economy. We aim to satisfy our Customers on both a productive and service level, through the continuous evaluation and optimisation of our services. We are investing in establishing strong relationships with our Customers that are based on trust and reliability.
At the same time we are upgrading our industry by investing in the lifelong training of the employees.
Innovation, trust, consistency, training, quality work, teamwork, responsibility, sincerity, honesty and confidentiality are our main values as a company. First of all is the respect for our "Assets", which are our Employees regardless of origin and religion, and for our Customers, who we consider our Partners from the very first moment.
Through continuous evaluation, training and development, our main goal is to become and remain the 1st choice of the Greek business market in sourcing warehouse employees through an "hourly rate project contract", as well as in the field of re-packaging and labelling that we undertake with flexibility and responsibility. Our aim is that our people are the key competitive advantage and guarantee by "G-G S-M LLC" towards its Partners.
We don't want a sterile collaboration with our customer! Our vast experience allows us to operate as a partner from the moment that you select us. We train, adapt and also listen to our customer's needs without hesitating to suggest any changes. It is our customer's decision on whether to proceed with these suggestions or not! We are however ready at any moment to implement our customer's decisions and furthermore our customer's needs! Our collaboration with our customer must change, where required, as the market evolves and changes. We aspire for our Customer, regardless of the project assigned to us, to have an active and effective partner at his side when required and precisely as required. HIS POWER OUR STAFF!
We have now concluded that due to the constant changes in the market we shall have a competitive advantage IF:
"We provide the employee that our Customer – Partner wants, when required, for as long as the employee is required based on market conditions, by securing the number of employees required to perform the customer's work and evidently at the best price".
Our Strategy as a company has been created on this basis: to have 3 things at any given point in time: a) Qualified staff, b) satisfied Employees and c) flexibility – adaptability.
Offices
"G-G S-M LLC" currently has offices at three hubs – cities in Greece:
a) Attica (Magoula) next to Attiki Odos and the Athens – Corinth National Highway, at the hub where Southern Greece intersects with Northern Greece, next to the ports of Piraeus & Elefsina, as well as the and "Logistics Park" under construction at Thriasio Pedio, servicing in human resources the Centre of Athens, South, Central and Western Attica, as well as Southern Greece and the Aegean and Ionian islands.
b) Voiotia (Oinophyta) next to the Schimatari Freight Centre, servicing in human resources North-Eastern and Southern Attica.
c) Thessaloniki that services all the regions in Ipiros, Macedonia and Thrace.
Warehouse spaces
At Magoula in Attica "G-G S-M LLC" has leased warehouse spaces of up to 3,000 m2 and 3,500 pallets with a capacity of handling merchandise on shelves or on the floor with all the relevant available Logistics (ramps, Clarks [forklifts] etc.).
These facilities at a separate – distinct area also accommodate our lines for packaging – re-packaging & labelling all types, and also on a 2nd level all the packaging material belonging to us or our customers.
Equipment
The necessary mechanical equipment that we use meets all the safety requirements, is systematically maintained and checked in order to ensure its smooth operation.
Employee Safety
We observe the health and safety regulations for our employees. We ensure for the optimal working conditions in collaboration with the Safety Technician and the Occupational Doctor. Additional measures have been taken within the context of the covid-19 pandemic. We also provide the capacity for issuing a special insurance policy for "Third Party Liability".
INDICATIVE CLIENT LIST
The "G-G S-M LLC" company based in Magoula of Attica and branches at Oenophyta of Boeotia, as well as Thessaloniki, has in excess of 150 active clients, the largest companies in their sector, as well as in the sector of: